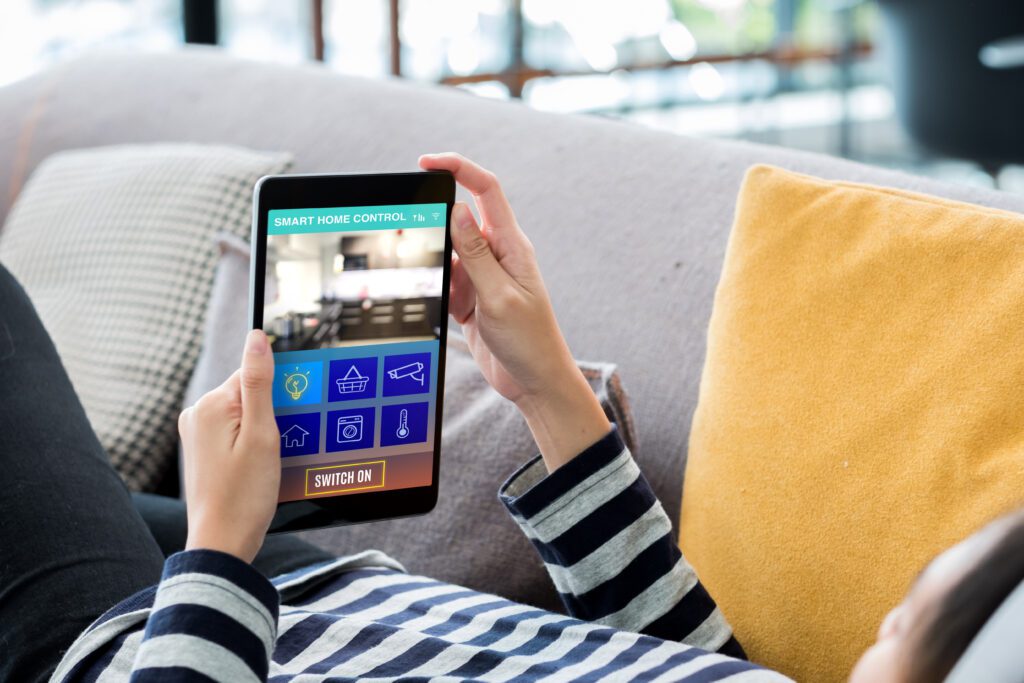 HVAC smart technology in Albuquerque, NM homes is a big positive feature for potential home buyers. For Albuquerque homeowners today when it comes to the HVAC system in new homes or homes that have been upgraded with new smart technology, people now have control of virtually every system in their home directly through integrated applications connected to smart devices we all use every day like smartphones and tablets. Smart technology now gives homeowners the ability to check and see if a home's garage door is down or up, turn lights on and off and control most any home system without the old-school requirement of turning a knob or dial or flipping a light switch.
Smart technology is now available in today's HVAC systems. The most recent improvements in smart technology gives people the ability to fit and adjust an HVAC system to meet their daily heating and cooling personal needs and requirements. Featured here are a handful of ways you might fit HVAC smart technology into your home to make your day to day living better.
Outdated HVAC Equipment Upgrade
Prior to changing your home's HVAC system and installing the latest smart technology you will need to remove your outdate HVAC system and upgrade it with a new 2021 HVAC system. Forced air furnace systems normally work reliably for around 20 years and air conditioner systems normally work for around 15 years without any major repairs or need for replacement. It's a fact that modern HVAC systems in 2021 can completely update the path your family takes to stay warm in the winter and cool in the summer. An HVAC system from a decade and a half ago is not obsolete but compared to HVAC systems available today it is close to being night and day. If you have an HVAC system that is more than 15 years old, it's time to take it out and put in a new one.
Electricity and Gas Bill Savings
HVAC technology in 2021 features provide ecology friendly components and functionality that save money and maintain day to day comfortability. Homeowners today are able to save $100 to $120 each year based on Energy Star smart technology HVAC systems. When shopping for new HVAC system be sure to purchase an HVAC system featuring the Energy Star product label.
2021 Solar Power
Connecting your new HVAC system that is integrates with a solar power system will lower your annual gas and electric bills significantly. A new HVAC solar power ready system is friendly to the environment, the ecology and it will make your home easier to live in. Tax rebates may be available to your for buying solar system if your area of the country offers them. There are federal solar credits available for new systems on an ongoing reduced basis through the end of 2024.
Lower Noise and Quieter Living
Older HVAC systems are loud, and they become louder with each passing year. The way to alleviate this loud issue is to purchase a new HVAC system. Today's HVAC units are very quiet, especially compared to systems 15 years or older. Today's units feature a duct wrap technology giving homeowners the ability to further sound-proof their new system.
Thermostat Smart Technology
Smart technology thermostats are a hugely popular product today in 2021. A smart thermostat will assist you in reducing your annual electricity and gas bills and they give you the ability to change your heating and cool settings and check the temperature in your home right from your smartphone from any where in the world. Featured below are two smart thermostats available in 2021.
Nest Smart Thermostat
Setting the temperature on your home's thermostat when the weather temperature got cooler or hotter outside used to require you to be physically present to make the change. With Nest Smart Thermostat products that requirement is gone. You can now control the temperature setting on your home's thermostat from your smartphone or tablet with the Nest smart thermostat system. The Nest smart thermostat system "learns" your families daily living habits by monitoring movement throughout your house. Due to advent of the smart technology offered by Nest, it senses when you're not at home and when you are at home. When you are not there at home, Nest keeps the thermostat setting low to keep the home's temperature low. This makes the home more energy efficient and in turn reduces your monthly energy bill.
Ecovent Smart Thermostat
For people seeking complete room control, Ecovent System offers the ability to control your system directly from any mobile device, such as a smartphone or tablet. The Ecovent System does do away with the regular functions of a thermostat totally, it does give you the ability to change room temperature by opening or closing the room's vents. The system comes with a temperature and humidity sensor for each room of the house powered the electricity from each room's electrical outlet.
Smart Technology is here to stay and when it comes to integration into today's modern home, it's just going to keep getting better. To learn more about Smart technology in your Albuquerque home's systems, give the HVAC professionals a call at Day and Night Plumbing.