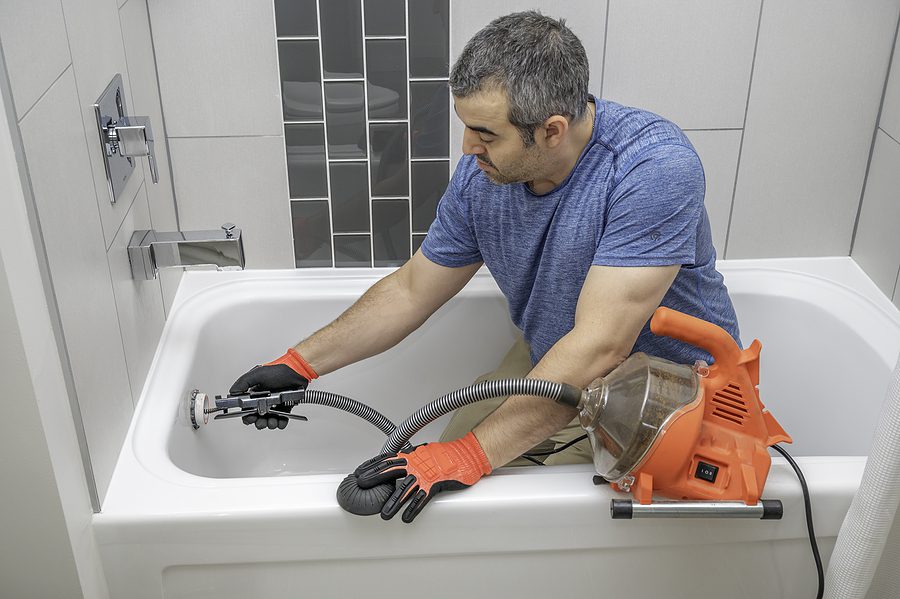 Clogged drains can be a pain, but luckily there are many ways to fix them. You might not want to deal with boiling hot water or getting down on your hands and knees if you don't have too! This article will show you some easy techniques that work well in both kitchen sinks as well as bathtubs and shower drains.
I'm going explain 4 different methods using only tools found around the house – no need to go purchase anything special just yet. Then we'll talk about a couple of "if all else fails" techniques.
If you choose to go the chemical route, remember you'll need to be especially careful that no chemical residue remains on the surfaces. It might be a nasty shock next time you want a nice hot shower or relaxing bubble bath!
1) Grab the Plunger
Make sure you form a tight seal with your plunger over the shower or bathtub drain opening and go for it! Rest and repeat as necessary – and it probably won't be just a couple of plunges…. If you rest in-between, you should be able to keep it up for a good length of time. Remember the longer you plunge, the more you'll be confident that it's not going to work!
2) DIY Unclogging Solutions
You can try vinegar, lye, baking soda or dish detergent. Two important things to remember however are:
Make sure you leave whatever solution you choose to sit for a while to gain the maximum effect.
These solutions will also benefit from having residue completely removed. While not as harmful as chemical residues, they could still pack a punch to sensitive areas!
3) Bleach
While it would be understandable if you didn't want to use bleach in the kitchen with foodstuffs around, unclogging a bathtub drain or shower with bleach can be helpful. Carefully pour bleach into a cup and then dump it down your shower or bathtub drain. Leave it for around 15 minutes, then flush the drain with hot water.
Don't forget to be aware of the fumes from bleach – especially when it encounters hot water – and don't leave the bleach too long because of the possibility of corroding your pipes.
4) Using a Bent Hanger
It might sound odd, but bent hangers have more useful purposes than just getting into your car if you've locked the keys inside! It might be a bit hit or miss, but your hanger hook can possibly catch the offending blockage and you can pull it out.
So, there are the obvious first choices for DIY unblocking of shower and bathtub drains. Now for the big guns:
1) Commercial Drain Openers
A chemical drain opener is the next logical step if you've tried all the DIY options. Pour the drain opener down the offending drain and you'll find it's pretty obvious whether its done the trick or not.
2) Drain Snakes
A snake tool is an effective method to unclogging a drain with standing water. If your sink and bathtub are clogged at the same time, it's possible the clog may be located too far down for other methods other than a snake. Trying to thread the cable through the floor-level drain may feel unwieldy however, but a snake tool will often render quick results. It may take time, but with practice, you can unclog a bathtub or shower drain with a snake.
If all the above methods for bath drain or shower drain unclogging fail, it's time to call in your local friendly plumber (Day & Night Plumbing) – although if you're looking for the job to be done completely and rapidly by an expert who knows what they are doing, maybe that should be your first port of call!