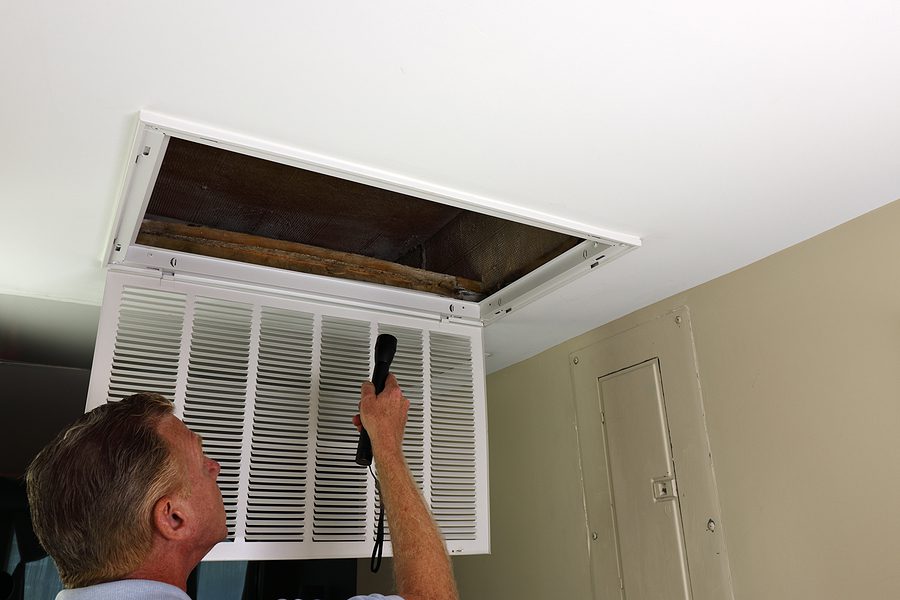 Because we live in Albuquerque, New Mexico, the beginning of fall may come a little later for us than it does elsewhere. There is a possibility that not all the trees will change color and shed their leaves. However, the temperature continues to drop throughout the later fall months. After some time has passed, some trees will begin to shed their leaves and turn other hues. When this happens, you need to be ready for it and ensure that your Albuquerque HVAC (heating, ventilation, and air conditioning system) is in good working order before you switch it on. Day and Night Plumbing, Heating, Cooling, and Drains LLC is happy to provide some fall maintenance advice for your heating, ventilation, and air conditioning system.
AC Unit Outside Should Be Cleaned
Always ensure your outdoor unit has been well-cleaned before using it. The dirt and debris around it may prevent your device from functioning correctly. This can be an issue if it exists. For the unit to function well, there must be a place that is uncluttered and tidy if you have fallen leaves from the trees surrounding your apartment during the autumn season. Or the plants and shrubs have grown too large for their space over the warm summer months, and you need to undertake some trimming. The next step is to begin cleaning it so there won't be any issues with your unit during the months you need it to work.
It Is Necessary to Clean the Vents.
During the warm summer months, dirt is more likely to enter your home. After entering your home, it may proceed directly into your ventilation system. Cleaning is required for your HVAC system to ensure it functions correctly. Because the air is beginning to become calmer and you will soon be turning on your heating system, the fall is an excellent time to clean your vents or air ducts.
Alter or thoroughly clean the air filters
In the same way, dirt can get into your vents during the summer, and it can also get into your air filters if you don't change them regularly. Your home's filters effectively capture dust, allergens, and particles that may find their way inside. It is prevented from entering your HVAC system, thanks, in part, to your air filters. It is recommended that you clean and replace your air filters throughout the fall months because this is the best time to do so. Before you switch on the heat for the winter months, ensure that anything left over from the summer has been cleaned.
Should You Turn on the Heater in Your Home Before You Need It?
Before it gets too cold, it is a good idea to check that your heater is operational by turning it on and ensuring it is warm enough inside. It is a good idea to put your heater to the test and check its functionality during the fall. The weather is just stunning outside. You should check the functionality of your heater while also opening the windows in your home. You won't have to worry about being taken off guard on a chilly day or night when you need heat, but your heater isn't working if you do this. If it is not functioning as it should, you should call in an expert to look at it and fix it before the winter weather sets in.
Do You Hear Loud Noises Coming From the AC?
When operating correctly, your heater and air conditioner should not create loud noises like banging, clinging, or screeching. If you hear these sounds coming from your air conditioner or heater, give a qualified technician a call so that they can come and inspect it for you. It is preferable to have it checked out early on to ensure everything is functioning correctly rather than risk having something go wrong and repair it, which would need further financial outlay.
Albuquerque, Rio Rancho, Placitas, Corrales, Bernalillo, North Albuquerque, Albuquerque South Valley, Bosque Farms, Isleta, Edgewood, Tijeras, Sandia, and the Greater Albuquerque Metro-Area are all serviceable areas for HVAC inspection, diagnosis, repair, replacement, maintenance, and more. Central Air Conditioning Diagnosis, Repair, Replacement, Maintenance & More in Albuquerque
Give Day and Night Plumbing, Heating, Cooling, and Drains LLC a call if you are experiencing any issues with your air conditioner or heater, or if you need to get Albuquerque HVAC system service before winter and they will send someone to evaluate the situation.