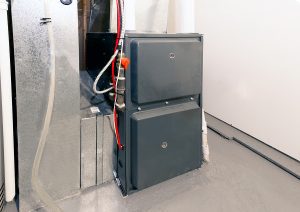 You absolutely should nto continue to use your Albuquerque furnace if its heat exchanger is cracked. It should be replaced immediately. The heat exchanger in your furnace is responsible for delivering heat to your home in Albuquerque. However, it will only be able to do so efficiently throughout its lifespan if you properly care for your furnace by having it maintained by a professional and getting repairs when needed. An older heating system subjected to wear and tear and corrosion over the course of its lifetime is more prone to have this issue, even though a broken heat exchanger is an extremely uncommon occurrence in more modern furnaces. If it is properly maintained, a furnace may last anywhere from ten to fifteen years. Our team at Day and Night Plumbing, Heating, and Cooling would like to take some time here to discuss why a damaged heat exchanger is alarming to customers, why it is unsafe and why it needs to be replaces ASAP.
The Elements That Make Up a Heat Exchanger
As was just discussed, the heat exchanger is the component of the system that is accountable for warming the air distributed throughout your living area through the vents. Lighting the burners on your gas-powered furnace produces hot combustion gas, which the heat exchanger inside the furnace collects. The heat exchanger is shaped like a clamshell and resembles a tiny metal chamber. There are most likely many heat exchangers located within your heater. The metal walls of the heat exchanger are warmed by the hot combustion gases passing through it. The blower fan forces air through the vents into your home, then passes across the heat exchangers. The combustion gas can heat the air going into your home without ever touching the air itself. After the heating process is complete, the combustion byproducts contained within the heat exchanger are allowed to escape from the system via a flue to discharge gas that is not harmful into the atmosphere.
How can cracks form in heat exchangers?
Although an older furnace is far more likely to have a broken heat exchanger, it is crucial to be aware of the possibility of a fractured heat exchanger, even if you have a more current system. A cracked heat exchanger is much more prevalent in older furnaces. As the heat exchanger's metal cools and then rewarms, it undergoes a process in which it shrinks and expands. The tension will eventually cause fractures to appear. As a result of the interaction between the combustion gas and the metal, the walls of the heat exchangers can also get eroded over time. The only time this is likely to occur is if your furnace needs to be vented correctly, which is another reason why getting a professional to install it is essential.
What are the indications that a heat exchanger has been damaged and when should it be replaced?
The fissures in a heat exchanger are extremely minute, approaching the microscopic level. If the heater is turned off, there is no way for you to discover it. The heat causes these fissures to become more noticeable, and problems occur when the furnace is turned on. Unfortunately, carbon monoxide poisoning is one of the most common reasons for fatalities that occur in the home. This point highlights the importance of both the installation of a furnace by a professional and the maintenance of a furnace annually. If your furnace has a cracked heat exchanger it is critical for your family's safety that it be replaced. Some of the most common symptoms of a cracked heat exchanger are you do not have heat in your home, your carbon monoxide detector is beeping, there are soot-like stains on your furance, there may be exhaust gase odor emitting from your furnace and the pilot light is yellow instead of blue. Carbon monoxide is by far one of the most dangerous gases. Carbon monoxide gas can killer your family. A furnace that has a cracked heat exchanger will emit carbon dioxide gas. If your furnace has a cracked heat exchanger it is critical for your family's safety that it be replaced immediately.
Gas furnace inspection, diagnosis, repair, replacement, maintenance, and other plumbing and cooling services are available by Day and Night Plumbing, Heating and Cooling in the following areas: Albuquerque, Rio Rancho, Placitas, Corrales, Bernalillo, North Albuquerque, Albuquerque South Valley, Bosque Farms, Isleta, Edgewood, Tijeras, Sandia, and the Greater Albuquerque Metro-Area.
In the greater Albuquerque, NM area, if you need maintenance, repair, installation, or replacement services for your furnace, you should call the trained technicians at Day and Night Plumbing, Heating and Cooling and let our certified specialists assist you. We rely on premium goods and cutting-edge machinery to deliver work of the highest possible standard. Because of our extensive experience, we can assist you with maintaining a heating system that is both secure and effective.