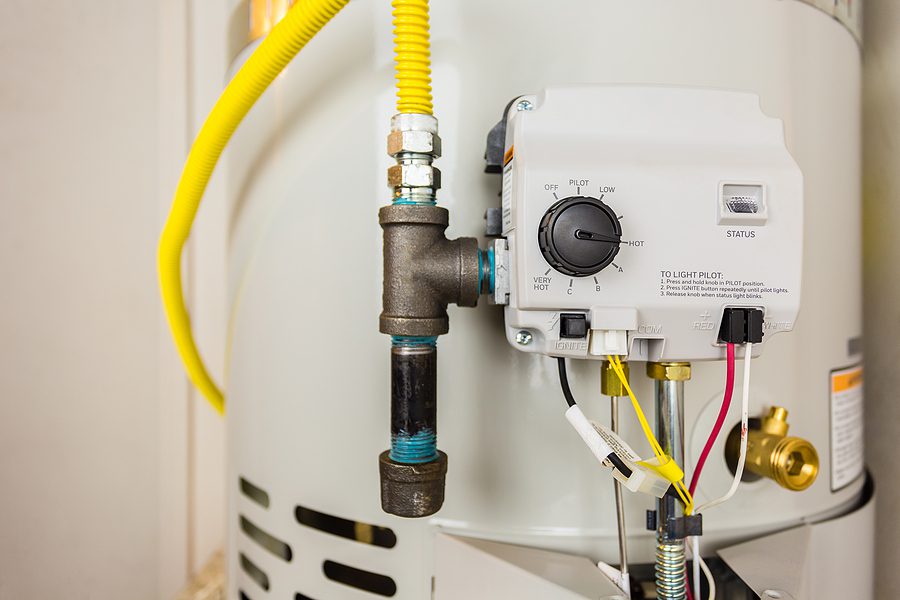 When something goes wrong with their water heater, most people don't give it a second thought. You must have your heating or cooling system repaired as soon as possible if it has started to leak or has stopped heating. A water heater repair estimate should include all of the costs associated with a plumber's time and materials. Contact your local plumbing contractor, like Day & Night Plumbing, Heating and Cooling, if you need immediate assistance.
Average Cost to Repair A Water Heater
Repairing a broken water heater costs $483 on average. Most homeowners pay between $244 and $576 to have their water heaters repaired. A water heater repair's final cost will be determined by a variety of factors, including the age, type, and scope of the problem, as well as whether or not additional work on the natural gas supply, plumbing, or electrical systems is required. A licensed, trained, and experienced water heater repairman should be called in for any repairs.
Average Cost to Replace a Water Heater
The typical lifespan of a water heater is 12 years. It is a good rule of thumb never to spend more than half of the total cost of replacing your water heater on the repair if you find yourself in this situation. Between $780 and $965, the average cost of replacing a water heater is $850.
If your water heater breaks down and the repair cost is $425, and your water heater is older than seven years, you should consider replacing your broken water heater. You'll pay more upfront, but you'll save more money in the long run.
Tank Vs. Tankless Cost Breakdown
Two types of water heaters are available: tank and tankless heaters. Each method has its advantages and disadvantages. The water in a tank water heater is stored in a tank and heated to your specified temperature. Water is not stored in a tankless heater; instead, it is heated as needed.
It costs, on average, $889 to set up a tank water heater.
Installing a thankless water heater typically costs $3,000.
Compared to tankless water heaters, this model is significantly less expensive.
Tankless installations take longer to complete.
Water is heated even when the system is not in use.
Life expectancy is approximately 12 years.
Tankless Water Heaters
Annually, you can save up to 25% on your water heating costs by using this product.
It's twice as expensive as traditional storage-tank water heaters.
Costly and often necessitating upgrades in other areas of the house, installation
A lengthy set-up period of about 10 hours
About a 20-year life expectancy
Gas Vs. Electric Cost Breakdown
Gas- or electric-powered water heaters will be available. These can either use electrical coils or natural gas to heat your water. Gas-fired water heaters are less energy-efficient than electric counterparts, but because electricity is more expensive, the gas-fired water heater is more affordable in the long term.
Gas Water Heaters
• Lifespan is around 12 years
• 60-70% energy efficiency
• Cost over 12-year span $4,979
• Price of unit $250.00 to $1,500
Electric Water Heaters
• Lifespan is around 12 years
• 90% energy efficiency
• Cost over 12 years is $6,248
• Price of unit $300.00 to $2,880
Additional Costs
There are a few things to keep in mind if you decide to upgrade your water heater. You should know that installing a conventional water heater is not as simple as it appears.
You may be required to upgrade other systems connected to your water heater to meet local building codes. There is a drain pan under your water heater, as well as a mounting bracket for your tankless water heater. The plumber should answer any questions you may have about these additional upgrades.
Popular Brands & Pricing
Reliability, affordability, and good value are all hallmarks of the most popular water heater brands. That's why they're so well-liked. Plumbing wholesalers and contractors can only sell some brands. In some cases, you can buy them at your local hardware or home improvement store. All costs are for the unit alone and do not include installation, transportation, or additional charges. '
• Bradford White: $670-$1,000
• AO Smith: $500 – $600
• Rheem: $400.00 – $500
• Kenmore: $350.00 – $500
• Whirlpool: $375.00 – $475
Will Replacing My Water Heater Lower My Bills
Today's more advanced water heaters heat your water better and faster with modern advancements. They also save you more on your monthly energy bills. Today's water heaters are injected with foam insulation to increase heat retention between the tank and the outer shell. Along with the insulated foam, water heaters are now made with a glass liner inside to prevent corrosion from the minerals in the water.
Replacing your water heater may seem expensive for the initial cost, but over time, it can prove to be worth it. Homeowners have experienced up to a 20% decrease in their energy bills with a new water heater.
Common Water Heater Problems
In water heater tanks, one of the most common problems is corrosion. Hard water can cause deterioration of the tank from the inside out, resulting in leaks. Minerals can also damage the heating element. Other common problems include thermostat issues, dirty pilot light sensors, broken thermocouples, or electrical wiring problems. Tankless water heaters may experience issues with sensors, fuel supply or the thermostat.
Water Heater Repair Considerations
An average water heater tank lasts for eight to 12 years. If your water heater is old and breaks down, you may be better off replacing it, as the average repair costs more than half the average cost of replacement. If a costly part has broken, replacement may be a wise decision, as more parts could soon fail. When water heater tanks begin to leak, a repair usually isn't an option.
A new water heater is likely to be more energy efficient than your older heater so that a replacement could yield savings on monthly energy bills. Some homeowners find that local building codes have changed and that after their water heater is repaired, upgrades to the venting system, drain pan and other components are needed. This can add to your water heater cost.
DIY Or Hire A Plumber
Your water heater seems like a simple enough appliance, but it can be a dangerous appliance to work with. There are simple DIY general maintenance projects like relighting the pilot light or replacing a thermocouple that any homeowner can tackle.
However, other, more complex maintenance projects require the skill and expertise. Projects like a leaking tank will need a contractor to fix it or replace it together.
Find A Plumber
There is nothing worse than waking up and hopping into a cold shower. Remember to take care of your water heater and perform regular maintenance to avoid this.
If you think your water heater needs repairs or needs to be replaced, let Day & Night Plumbing, Heating and Cooling help! Connect with a local plumber today.