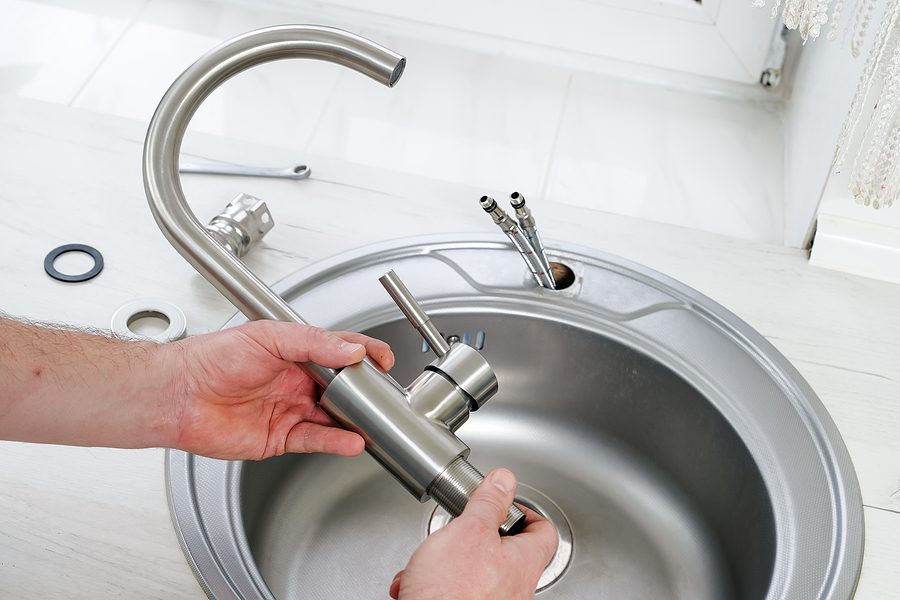 There's nothing that can appear more daunting that plumbing issues in your Albuquerque home. Take heart though, there are a few of these plumbing repairs that you are quite able to do yourself. A simple issue like a leaking faucet can be repaired quickly with a few tools that you probably already have. However, if you have a leaking pipe under a sink or behind a wall, this is a bit outside the scope of a DIY handyman. It's time to call your Albuquerque plumber to solve the problem quickly.
If you own an adjustable spanner and a screwdriver, there are many repairs you can do yourself that are relatively easy. If these are not something that you own, your local Albuquerque hardware stores or Big Box home improvement retail stores can help you out.
Here are a few of the DIY repairs you can try yourself:

Leaky Faucets
Leaky faucets are a common occurrence in most Albuquerque homes. There's nothing more annoying than a dripping faucet, the sound tends to become imprinted on your brain and it's all you can hear!
Fortunately, these are one of the easiest plumbing issues to fix. The main cause of a leaky faucet is a loose faucet handle. You will need a Phillips head screwdriver and an adjustable wrench for this fix-it job. Firstly, remove the cap that sits on top of the handle and take the screw or nut below and tighten it. This will more than likely fix your leaky faucet. If this doesn't work, it will be time to call in your Albuquerque plumber.
DIY Clogged Tub Drain
While not the nicest of subjects (I hope you're not eating!) and whether you want to admit it or not, most clogged tub drains are caused by accumulated shampoo scum, soap and hair.
Reach down inside the drain and see if you can pull out any of the clumps of hair that may be blocking the drain. Grab your trusty plunger and place it firmly over the drain and begin plunging. Make sure you've got a sturdy plunger and not one of the el-cheapo brands – this will give you the best chance of solving the problem.
Plunging firmly will not only push the blockage through the plumbing pipes, but it will push out any trapped water and air inside the pipe. After plunging several times, pour some hot water down the drain. If the water backs up again, you'll probably need to call your local Albuquerque plumber to fix the problem.
DIY Broken Faucet Repair
When a faucet is actually broken, water will continue to run when the tap is closed. This means it's time to replace it. Replacing a faucet is a relatively simple task, but it does require getting under the sink counter and removing the nuts that hold the faucet into place. Before starting, turn off the water valve that supplies the faucet. Grab your adjustable pipe wrench and remove the retaining nuts that hold the faucet in place at the sink. Lastly, place the new faucet in the sink basin, tighten its nuts and reconnect the water supply, then turn the water valve back on. Check the faucet handle to ensure it is working properly.
DIY Clogged Sink
If you have a clogged sink in your Albuquerque home, it can be a worry, especially since the sink can't be used. A clogged sink in your bathroom is usually caused by a hairball blocking the water flow in the pipes. A clogged sink in the kitchen can be caused by grease build up and trapped food causing a blocked pipe.
Here's how you can unclog your drain:
Grab a metal coat hanger. Undo the hooked part of the hanger, straighten it out and make a small hook at the end.
Insert the small hook that you just made into the drain hole until you can feel the blockage. Push it down and pull it up several time to see if you can break up or loosen the blockage.
Pour hot water down the sink to hopefully push through an residue.
Repeating this several times to see if you are able to clear the drain yourself.
These solutions are relatively simple and easy to apply, and most of the time, they will solve your clogged drain and sink issues. If you aren't successful, it's time to call in the professional expertise of your Albuquerque plumber who can fix these problems – and others – in a flash!