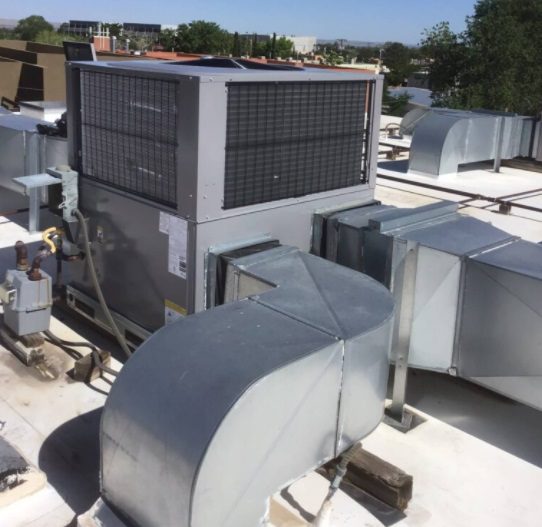 Keeping a comfortable home might mean the difference between being able to enjoy your summer outside or not. When you live somewhere like Albuquerque where it can get too hot, having somewhere cool and refreshing makes life more enjoyable. Similarly, when wintertime comes around, we have plenty going on inside. Unfortunately, both summer and winter can wreak havoc on your electricity bill.
Your air conditioner, fans and other appliances are all working hard to keep you cool in the summer or warm during winter months. To save money on your energy bill here is a few tips that can help cut costs!
One of the biggest culprits of high electricity bills is an HVAC unit that needs repairs. Let us help you there! Contact us at Day & Night Plumbing Service Albuquerque metro area for a free HVAC quote with our top local pro by giving 505-974-5797 a call now!
Energy Saving HVAC
Your home's HVAC system is where you should turn when it comes to cooling and heating your house. First off, this stands for Heating Ventilation Air Conditioning which provides both hot and cool air conditioning in residential homes. It uses fresh outside air as well as exchanging indoor environments with new ones–the V part of ventilation!
HVAC systems are a great way to improve the quality of air inside your home. They involve removing moisture, smoke particles, odors and other gases, as well as temperature control, while adding in oxygen replenishment. This is all done at an efficient level with Energy Star certification. There's more than just replacing old equipment though; if you already have one or do not wish to replace yours, there's still plenty you can do to reduce costs when using these appliances.
Make sure you change the filters regularly and have regular check-ups to ensure your HVAC system is kept in good working condition. By using fans to keep cool air circulating, your HVAC system won't have to work as hard.
Invest In an Energy-Saving Thermostat
In addition to an energy-saving air conditioner, a smart thermostat will be the perfect complement for your home and wallet. With most of these devices learning about your habits, you can make it even more customizable so that when it's not in use they'll automatically turn off!
The Department of Energy advises keeping settings down at 78 degrees while you're around or just keep things comfortable with as little heat as possible.
Energy-Saving Curtains
The use of energy-saving curtains may seem a small detail, but it could make a massive difference to your energy costs.
As well as insulated curtains giving your windows extra protection against the heat, by blocking the hot summer sun, this also helps to keep the cool air inside. With a large range of designs available, you don't have to sacrifice your decorating style in order to save money.
Energy-Saving Power Strip
Summertime is the perfect time to save on your energy bills. There are tactics you can use every year according to the Department of Energy that will help cut power consumption by 10%.
An energy saving Power Strip could prevent this problem by cutting off all cords if there isn't anything being used – making it a worthwhile investment. This includes devices like TVs and other plugged-in electronics, as they continue using electricity even when turned off.
Energy-Saving Roofing
Metal roofs are often a great choice for those who live in hot regions, as they can help keep temperatures down inside your home. The average cost is between $7-$10 per square foot and it's an easy installation – so you'll be saving money on bills quickly! To learn more, read Create an Energy Efficient Home with A Cool Metal Roof.
Energy-Saving Insulation
Many older homes have insulation that may not be as efficient as it once was. Leaks and gaps in insulation can cost you a lot of money when you're trying to cool your home in the summer. It's a good idea to contact an insulation contractor to help you inspect where your home is most vulnerable and where you may need to seal and add extra insulation.
An insulation installation is a home energy improvement you'll see ROI on through your energy bills. The average cost to install insulation is $1,325 with most homeowners spending between $1,003 and $1,397.
Energy-Saving Windows
Your windows let the sunshine in, but they could also be letting cool air out. Energy-saving windows can help you save money on your bills this summer. However, as the average cost to install them is $4,516 there are plenty of other changes one might make if their existing ones are in good condition and already installed correctly. Consider caulking or weatherstripping those areas where air escapes so that way you're not losing any warmth from your home during winter months.
Summary
When the Albuquerque summer heat is too much to handle or the Albuquerque winter cold has you shivering in your bones, you can use these tips to keep your home comfortable and energy bills low