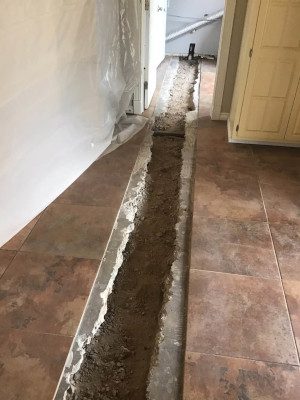 In addition to drain cleaning and clearing services, Day and Night Plumbing also offers drain line replacement. When a drain line (also known as a "sewer line") goes out, it needs to be addressed fast and get fixed faster. Day and Night Plumbing is here to help you solve your drain line problems quickly and correctly.
Your drain line is the piping system that links your home's primary drain pipe with the sewer system (or septic system). When the drain line of your home was first installed, the piping system was leak-proof and all the joints were sealed to be impenetrable. Because the drain line is placed underground, the pipes and pipe joints are susceptible to earth quakes and earth movements, as well as tree and bush roots. Over time, these issues will affect your home's drain line negatively, potentially causing both water and home waste to become blocked from flowing into the sewer system (or septic system) as intended. This blockage can cause water and sewage to back up into your home.
For over 25 years, the qualified team at Day and Night Plumbing has been replacing drain line systems throughout Albuquerque and the surrounding areas, making us the plumbing company that local property owners trust.
Got drain line questions? We have the answers! Please give us a call regarding any drain line repair or replacement questions.